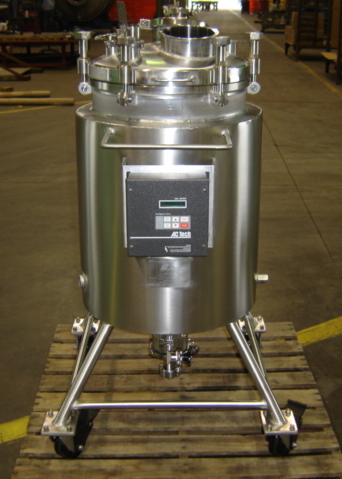 Count on Sharpsville Container as your process pressure vessel and pressure reactor manufacturer. We manufacture a broad selection of engineered-to-order kettle reactors, reactor vessels and related equipment. As your process reactor manufacturer, we can build a solution to your specifications. Our team can also collaborate with you from the first step to develop the ideal product for your application.
Features:
We can develop process reactor and vessel solutions with a variety of features tailored for different applications. Our American-manufactured products come from our skilled team of producers. Request capabilities such as:
Agitation
Heat Transfer
Insulation
Clean in Place (CIP)
Modularization
Aseptic
As a full-service process reactor manufacturer, we can assist through each step of development. Our team will meet you on-site to discuss your equipment needs, so we can determine the best design for your application. We will also analyze your current operations and machinery to make informed product recommendations.
Codes:
Our company has multiple code certifications to allow us to manufacture to industry specifications:
ASME: The American Society of Mechanical Engineers (ASME) develops codes and standards for mechanical engineering for multiple applications.
ISO 9001: The International Organization for Standardization (ISO) 9001 quality management system promotes the production of products that meet industry and customer standards.
API: The American Petroleum Institute (API) establishes standards for the oil and gas industry.
CSA: The Canadian Standards Association (CSA) certifies a variety of products for Canadian consumers.
UL: The safety corporation UL has US and Canadian certification to develop product safety standards.
Let us design compliant equipment for your facility.
Request a Quote Today
Begin the development process today by requesting a no-obligation quote.