Quality Stainless Steel Vertical Silos to Fit Your Industry's Needs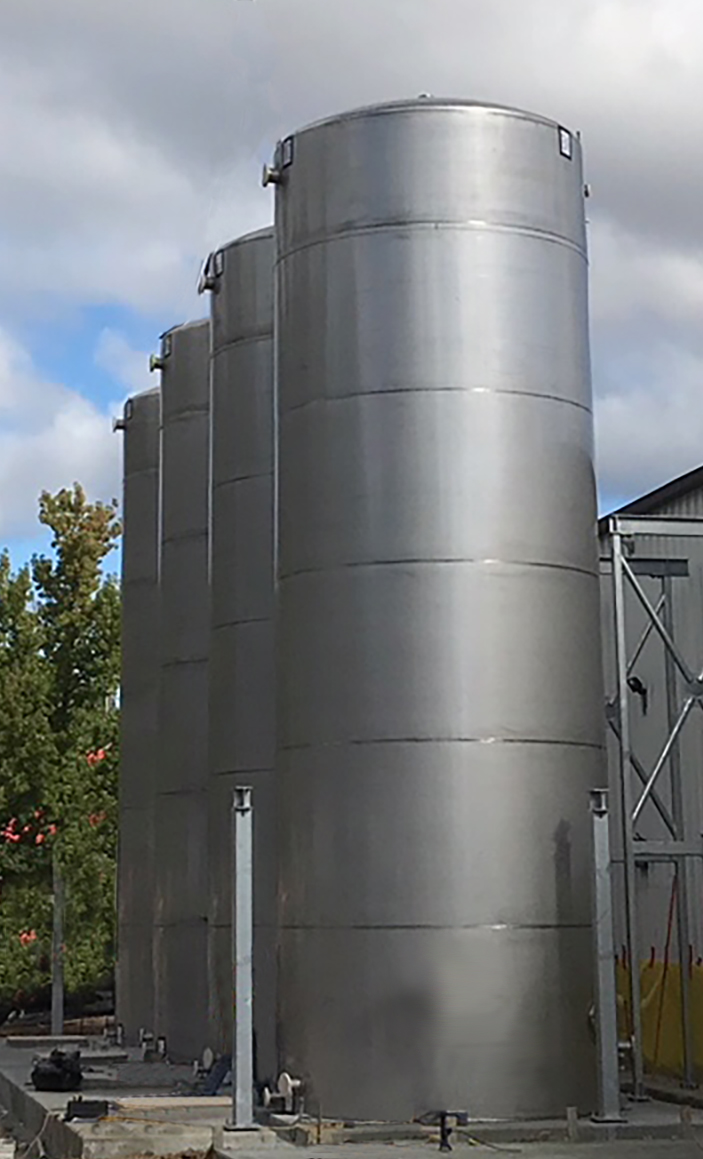 At Sharpsville Container, we know that to be a leading supplier of top quality stainless steel vertical silos across diverse industries, we must first earn our customers' trust. We do this by ensuring each of our stainless steel welded silos meets the needs of the industry it will be used in, as well as the unique requirements of the customer. We build silos with capacities from 5,000 to over 30,000 gallons and we offer a variety of diameter and height configurations. We're happy to offer every customer an individual consultation to determine their needs and ensure we create a product that provides reliability, durability and value.
Our in-house engineering team is highly skilled when it comes to the fabrication of welded vertical silos that match the exact requirements of our customers' needs. In addition, we're well-equipped to provide on-site engineering solutions.
Features of Our Stainless Steel Vertical Silos
Vertical Design Shell Options:
304, 316, 316L, Nickel Alloy, or Carbon Steel Construction
Weld Options:
Weld As Is
Stripped Buffed
Ground Smooth
Ground Flush
Sanitary Finish Manaway Options:
Top Entry or Shell Access
Bottom Options:
Custom Fittings:
Blending Options:
Insulation and Sheathing Options:
Insulated with chloride-free insulation and spray foam insulation
Additional Options:
Chutes
Stairs/Handrails
Platforms
Catwalks
Industries We Serve
From standard steel vertical silos to specially-customized vertical silo storage tanks, Sharpsville Container has the design, fabrication and service know-how to deliver precisely what you need in storage tank equipment, regardless of your industry.
Some of the industries where you'll find our industrial steel silos in daily use include:
Commercial Cooking: Our stainless steel storage tanks & vats are used extensively in commercial food production processes such as cooking, chilling, and liquid storage.
Chemical: When the storage of chemicals and other hazardous materials is your business, our containers come with a wide range of coatings for the chemical resistance you need, as well as in a range of forms and sizes.
Beverage: Whether it's a popular soft drink or a hand-crafted spirit, the proper storage of beverages is vital. We're proud to supply top-quality industrial vertical silos to various companies in the beverage industry.
Food & Dairy: Because our industrial vertical silos offer both efficiency and proper storage, many food and dairy companies rely on them to meet their high compliance standards.
Water Purification: Water is becoming one of the most valuable natural resources. The water purification industry relies on our Sharpsville Container's products for the proper storage of both non-potable and potable water.
Typical Applications of Our Stainless Steel Silos
Our welded silos are used for a variety of applications including:
Liquid Storage – Including water and other bulk fluids
Solids Storage – Including grain and other bulk solids
Benefits of Working with Sharpsville Container as Your Silo Provider
At Sharpsville Container, we are committed to delivering the best experience possible for our customers. For that reason, you'll enjoy the following benefits if you choose to work with us:
Silos are covered under a full one-year warranty.
We deliver quickly to all areas of the U.S. from our facilities centrally located between the Northeast, Southeast, and Midwest markets.
Our in-house engineering and design team will work to provide the perfect custom solution for your needs.
We have the ability to design or draw to your previously existing specifications.
We provide timely quotes – no long waiting period for a quote on your project.
We are a member of The Reserve Group portfolio of companies.
Our Promise to You
Sharpsville Container is a full-service equipment manufacturer. Because we pride ourselves on our reputation for quality, we consider it an honor to meet face-to-face with you at your facility to discuss unique solutions to your processing needs. In addition, we back all our products and services with a standard 12-month warranty. We also offer no-obligation quotes and estimates.
Contact us today to find out exactly what quality and value are all about when it comes to the manufacturing and servicing of stainless steel vertical silos.
Charts & Images Showing Our Silo Design Process
Specifications drawing of one of our vertical silos:
Specifications drawing showing the bottom of one of our vertical silos:
Drawing of one of our finished vertical silos: