Sharpsville Container Corporation has the capability to customize drums and kegs to meet specific customer requirements. Using a customer-centric approach from design concepts through fabrication and testing, SCC provides unique and cost-effective solutions to a wide range of customer storage and tranportation challenges.
Every pressure vessel is fabricated by highly skilled American workers. Our value proposition includes short lead-times, flexible designs and the ability to work with a broad range of materials.
Industries Served
High-Purity Solvents & Chemicals
Industrial Solvents & Chemicals
Cosmetics
Pharmaceutical
Electronics & Semi-Conductors
Services
Design
Fabrication Service
Regulatory Testing
Passivation
Electropolishing
Mechanical Polishing
Products
Drums
Kegs
Bag-in-Keg Systems
Custom Fabrications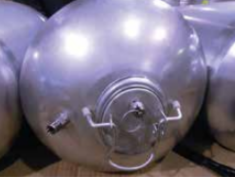 Options
Size Range Starting at 1-gallon Liquid Capacity
Carbon Steel, Stainless Steel, Nickel-Based Alloys
Custom Closures & Fittings
ASME, UN/DOT & TC Certification
Contact Us
If you'd like more information or have any questions regarding your specific project needs, please contact us, request a quote, or give us a call at 724-964-4098.